I recently finished the book Potato: A history of the propitious esculent.  In it, John Reader takes his audience on a meandering tour of the potato's history, ranging from academic explanations of the potato's role in early industrial labor markets to folksy accounts of his time living in rural Western Ireland.  I quite enjoyed it.
One of the things that fascinates me about potatoes is their nutritional near-completeness.  Cultures in the Andes subsisted mostly on potatoes for thousands of years, building vast civilizations, and the Aymara and Quechua still eat such a diet today.  In 18th and 19th century Ireland, the average person's diet consisted almost exclusively of potatoes, often with the buttermilk that was left over after butter was sold for income.  Despite abject poverty due to crushing oppression by the English, by all accounts the Irish during this time were in excellent health and had the highest fertility rate in all of Europe.  On page 157 of the paperback, Reader quotes farmer and Royal Society fellow Arthur Young, who conducted a survey of Irish agriculture in 1776-9:
I have heard [the potato] stigmatized as being unhealthy, and not sufficiently nourishing for the support of hard labour; but this opinion is very amazing in a country, many of whose poor people are as athletic in their form, as robust, and as capable of enduring labour as any upon earth.  When I see the people of a country, in spite of political oppression, with well-formed vigorous bodies, and their cottages swarming with children; when I see their men athletic and their women beautiful, I know not how to believe them subsisting on an unwholesome food.
From page 148:
The population of Ireland more than doubled between 1687 and 1791, rising from 2.16 million to 4.75 million.  During the fifty years from 1791 to 1841 another 3.4 million were added, taking the population to 8.15 million.  Another 1.75 million emigrated to North America, Scotland, England and even Australia during the same period, which brings the total born in Ireland to nearly 10 million — almost a five-fold increase in 154 years (1687 to 1841). 'Probably in no other western country has so rapid a rate of natural increase been so long sustained,' writes the historian Kenneth H. Connell.
This book, coupled with a few other influences, inspired me to try a mostly-potato diet for a week.  This inspiration happened to coincide with our recent harvest of 1,500 pounds of potatoes from a garden we share with another couple.  Here's a photo of our largest potato, a freshly unearthed Cal White that weighed nearly four pounds: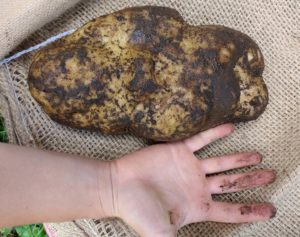 This potato would have flabbergasted farmers in 18th-century Ireland, where a four-inch diameter potato was considered unusually large (p. 148).
My wife and I chose to eat a slightly more affluent version of the 18th/19th-century Irish diet: baked or microwaved potatoes, homemade whole milk yogurt, and salt to taste.  We also supplemented dinner with a portion of vegetables tossed in a little olive oil or vinaigrette.  I occasionally had a snack of dried fruit, and one day I had a non-potato lunch with a friend.
This resulted in a diet that was higher in carbohydrate and lower in fat than my typical fare, and also very low in reward value.  I knew it would be hard to eat enough calories so I made an effort to stuff as much down as possible.
The first few days were, honestly, rough.  Although I wasn't hungry, I felt mentally foggy and shaky between meals, which eating a bit would correct.  My exercise tolerance was terrible and I had to scale back my cycling and strength training routine.  My wife felt the same way.  Interestingly, this reminds me of a phenomenon people talk about called the "low-carb flu".  I've never experienced this, but many people report that in the initial adjustment period to a very-low-carbohydrate diet, they feel foggy, tired, cranky, and have low exercise tolerance.  I wasn't expecting this to happen with potatoes, but perhaps it occurs whenever the body has to adjust to a substantially different macronutrient composition.
As the week went on, I gradually felt better, and by day five I was no longer feeling foggy or shaky between meals and my exercise tolerance had bounced back.  In fact, on day five I went for a jog and ran faster, and with less effort, than I can remember running in a long time.  My wife also felt better as the week progressed.
After a few days on the diet, non-potato foods began to taste fabulous.  I always enjoy fresh vegetables from my garden, but while I was on the potato diet, simple tomato or lettuce salads with vinaigrette dressing were delectable.  Despite that, potatoes and yogurt never became unappealing.  The diet was certainly monotonous, but not unpleasant.
My weight was stable over the course of the week, and my digestion was brisk.  I experienced very little hunger between meals.  The experiment would have been more informative if I had continued for longer, but it would have been challenging for social reasons and I didn't have a compelling reason to do so.
In parting, I'll leave you with these verses from a traditional Irish folk song, as printed in Potato (page 151):
Says I, 'My lovely darling I'm tired of single life
And if you've no objections I will make you my sweet wife'.
Says she, 'I'll ask my parents and tomorrow you shall know
If you'll meet me in the garden where the praties grow'.

Her parents they consented and we're blessed with children three
Two girls just like their mother and a boy the image of me.
We'll train them up in decency the way they ought to go
And I'll ne'er forget the garden where the praties grow.