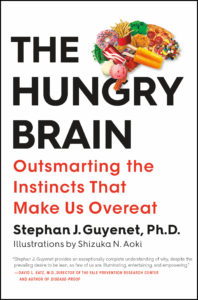 The Hungry Brain has been available in the US for four and a half months now, and reactions are rolling in.  Here's a summary of what I've learned so far.
Positive feedback
So far, I've received uniformly positive feedback from the research and medical communities.  One of my primary goals was to accurately and clearly explain a broad swath of neuroscience and obesity research– much of which has never been available to a general audience– and it seems I've accomplished that.
After reading The Hungry Brain, my postdoc mentor Mike Schwartz told me it's the best general-audience explanation of our field he has seen.  That's particularly significant because Schwartz is one of the primary architects of our field.  The book also recently received its first review from a scientific journal, which wrote "This is an enthralling book which has lots of cutting-edge research… and is well written" (1).  David Katz, director of the Yale University Prevention Research Center, wrote that it "provides an exceptionally complete understanding of why, despite the prevailing desire to be lean, so few of us are" (2).  Alan Aragon, nutrition researcher and educator, called it an "awesome book" (3).
I attribute this positive reception from the scientific and medical community to two factors:
I made a good faith effort to understand the evidence from the most informed perspective possible, which is usually the perspective of the researchers themselves.  To do that, I read hundreds of papers and interviewed 36 researchers directly.  When a researcher's perspective didn't make sense to me, I corresponded with him/her and other experts and read papers until I felt the question was resolved (or difficult to resolve given current evidence).  I also drew from my preexisting knowledge in the area, gained from 12 years of research experience in neuroscience and obesity.
I had subject-specific experts review the majority of the book before publication and I took their comments seriously.
Feedback from popular media and the general public has been very good as well.  The Hungry Brain received a very good review from The New York Times, which called it "essential", and an outstanding review from Publisher's Weekly, which called it "a remarkable book" (4, 5).  It also received a good review from the rationalist Scott Alexander (Slate Star Codex), who wrote "Not only does it provide the best introduction to nutrition I've ever seen, but it incidentally explains other neuroscience topics better than the books directly about them do" (6).  The book currently has a 4.5 out of 5 star rating on Amazon.com.
In February, I accomplished one of my long-standing pipe dreams, which was to give a book talk at the Elliott Bay Book Company in Seattle.  The talk had good turnout and was well received (thanks to all the locals who came out!).
To date and to my knowledge, none of the major scientific points in The Hungry Brain have been credibly refuted.  That said, I don't present the contents of the book as Immutable Scientific Truth.  True scientific beliefs are probabilistic, meaning that there is some probability they will turn out to be wrong.  Beliefs can be wrong either through limitations of the evidence or limitations of the person interpreting it, and I understand that neither the evidence nor I are infallible.  I made an effort to convey uncertainty in the book when I thought it was appropriate.
Despite a very positive response overall, knowledgeable people have pointed out a few mistakes in the book.  The most significant of these is on page 44 of the hardcover, where I use the term negative reinforcement rather than the correct term punishment (first pointed out by Sylvia Karasu– thank you).  It's an embarrassing mistake, but not one that undermines my point.  If you find any mistakes, please pass them along– I may have the opportunity to correct them someday!
Negative feedback
No book will satisfy everyone, and that is true of The Hungry Brain.  Negative feedback gives me an opportunity to learn about my audience and about the book market.  The primary theme of the negative feedback I've seen is that some people wanted more of a practical focus and were frustrated that I didn't present a simple, novel approach to weight control (some of the weight control strategies in the book are things I haven't seen in other general-audience books, but most of them can be found elsewhere).  You can see feedback like this on the book's Amazon page.
I totally understand why people want me to distill weight control into one core idea and use that idea to deliver confident, simple, effective advice that they haven't seen elsewhere.  In all areas of our lives, we want the most benefit for the least effort– that's human nature.  Yet eating behavior and weight control can't be shoehorned into one simple concept– that's reality.  Another part of the problem lies in the fact that The Hungry Brain isn't a diet book.  It does provide strategies for managing eating behavior and weight, and I believe those strategies are effective, but the primary focus of the book is on understanding why we overeat.
Furthermore, I think some readers are looking for a silver bullet that not only doesn't exist in The Hungry Brain, but doesn't exist anywhere.  If there is a silver bullet for easy weight loss, no one has figured it out yet (the closest thing we have right now is bariatric surgery).  The truth is that most people with obesity would rather be lean, and many of them go to great lengths to try to slim down, usually without substantial, lasting success.  If there were a simple and easy solution, the US would not have an adult obesity rate of 38 percent.  Yet due to the aforementioned human nature, we're constantly on the lookout for that silver bullet.  This is why people get swindled by an endless treadmill of ineffective quick fixes.  There is a perverse incentive to tell people what they want to hear even if you can't back it up.
I know I could have sold many more copies if The Hungry Brain had been about a new miracle cure for obesity, or about the one cause of obesity "they" don't want you to know about (or both).  I could easily have found a publisher happy to print all sorts of garbage with my PhD stamped on it, and popular media would have amplified my controversial claims.  But I don't have the stomach for that, and I also don't have much incentive because writing isn't my primary source of income.
The future of The Hungry Brain
I wrote The Hungry Brain for a very broad audience.  My goal was to write a book that is accessible enough for a sophisticated general audience, but rigorous and informative enough to interest the research and medical communities–even those who are already knowledgeable about eating behavior and obesity.  I realize that's a lofty goal, but I think it's possible, which is why I spent many long hours agonizing over how to present the concepts in a way that's as easily digested as possible (using both text and professional medical illustrations).  I've often been amazed at how much I can learn from a good book, even on a topic I know well.
My hope for the future is that the book will remain relevant and continue to appeal to a broad audience for many years.  I hope it will continue to shift the global conversation on obesity in a more evidence-based direction, and help individuals understand themselves and find compassion for themselves.  I would also love to see the book used in a classroom setting to teach topics related to neuroscience, eating behavior, and obesity.