The Centers for Disease Control provides the most accurate estimates of obesity prevalence in the US, based on National Health and Nutrition Examination Survey (NHANES) data.  They just released data for the 2015-2016 survey period, and it doesn't look good.
Since the turn of the 21st century, it has looked like the rate of increase of obesity prevalence is slowing.  Many of us were hoping that it would plateau, and perhaps eventually decline.  Yet the latest NHANES data show that obesity has been increasing at its maximum historical rate since 2011 in both adults and youths, and is now 39.8 percent in adults, 13.9 percent in children age 2-5, 18.4 percent in children 6-11, and 20.6 percent in adolescents 12-19.
Since the CDC release doesn't provide a graph showing obesity prevalence over the whole history of NHANES surveys, I've created my own: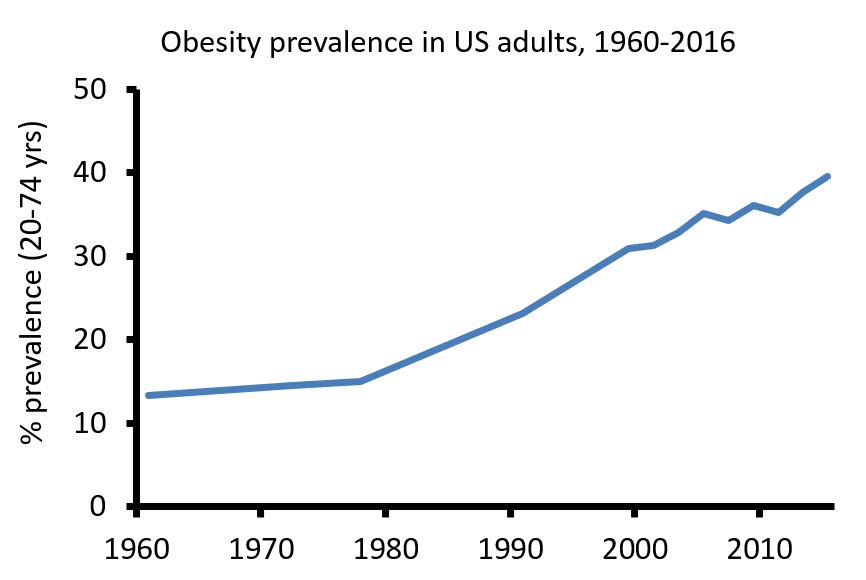 Since 1961, the prevalence of obesity in US adults has increased by 2.95-fold.  According to recent research, the lifetime risk of obesity in the US is greater than 50 percent, meaning that most people will have obesity at some point in life.  This is a very serious public health problem and I believe we need to get serious about addressing it.  As I explained in the last chapter of my book, our efforts thus far have been halfhearted, largely due to the congenital aversion of US citizens, politicians, and industry executives to further regulation of the food system.