Old April Fools post!
My book The Hungry Brain explains why we overeat and offers strategies to combat it, but it doesn't go into great detail on how to apply this knowledge.  One of the most potent drivers of overeating is food reward, or the seductiveness of food that drives us to eat things like cookies, chocolate, fancy coffee drinks, bacon, and chips.  Eating a lower-reward diet helps reduce calorie intake and body fatness, but how do we put that into practice?  By popular demand, the answer is here: The Bland Food Cookbook.
If you've been following my writing over the years, including my recent book, you know that the diets of our distant ancestors were much blander than the modern affluent diet, and that this is probably one of the reasons why they tended to be leaner than we are today.
How can we reclaim the leanness of our ancestors?  We know what we should be doing, but sometimes we don't know how.  Enter The Bland Food Cookbook, available today.
To research The Bland Food Cookbook, I scoured dozens of 19th and 20th century cookbooks from the British Isles, selecting only the very blandest recipes.  Offering 53 recipes in stunning black-and-white print, The Bland Food Cookbook includes such classics as "potato"– a dish perfected in 19th century Ireland: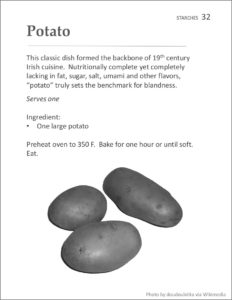 The Bland Food Cookbook also brings back some of the most popular recipes from The Eocene Diet, such as the perennial favorite "termites on a stick".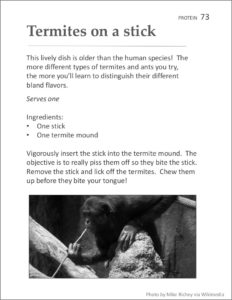 Described by The New York Times as "delightfully boring" and Publisher's Weekly as "palate-numbing", The Bland Food Cookbook is certain to keep your unruly tastebuds in check.  Buy your copy today!
April fools!!