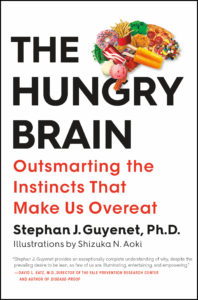 The Hungry Brain has been available in the US for four and a half months now, and reactions are rolling in.  Here's a summary of what I've learned so far.
Positive feedback
So far, I've received uniformly positive feedback from the research and medical communities.  One of my primary goals was to accurately and clearly explain a broad swath of neuroscience and obesity research– much of which has never been available to a general audience– and it seems I've accomplished that.
After reading The Hungry Brain, my postdoc mentor Mike Schwartz told me it's the best general-audience explanation of our field he has seen.  That's particularly significant because Schwartz is one of the primary architects of our field.  The book also recently received its first review from a scientific journal, which wrote "This is an enthralling book which has lots of cutting-edge research… and is well written" (1).  David Katz, director of the Yale University Prevention Research Center, wrote that it "provides an exceptionally complete understanding of why, despite the prevailing desire to be lean, so few of us are" (2).  Alan Aragon, nutrition researcher and educator, called it an "awesome book" (3).